ARC admission scheme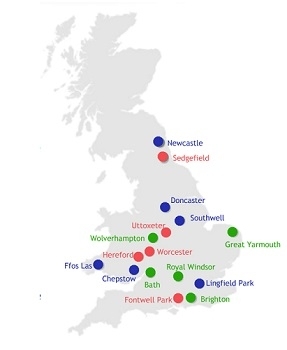 If you are a member of the ROA and don't qualify for free admission through the Racecourse Badge Scheme for Owners, there's great news. We have teamed up with Arena Racing Company, to offer ROA members the chance to visit each of the group's 16 racecourses twice each during the year, absolutely free of charge.
The 16 racecourses covered by the ROA / ARC admission scheme are:
Flat courses: Wolverhampton, Great Yarmouth, Royal Windsor, Bath and Brighton;
Jumps courses: Sedgefield, Uttoxeter, Worcester, Hereford and Fontwell Park;
Mixed courses: Newcastle, Doncaster, Southwell, Ffos Las, Chepstow and Lingfield Park.
The scheme is designed especially for owners with smaller shares in horses and non-nominated partners and allows 32 complimentary admissions to 535 of ARC's 562 fixtures.
A list of the fixtures covered by the scheme can be found when logging into the ROA Members Area.
The admission scheme only covers participating meetings and is for the use of ROA members only.

Apply for the ARC scheme
To access the free ARC fixtures you will need to be sent a new admission card. The ROA and ARC will need to hear from you in writing by filling out this short online form:
Alternatively you can email these details to us at info@roa.co.uk or write to ROA at 1st Floor, 75 High Holborn, London WC1V 6LS.
Once we receive your application, your details (name only) are sent to ARC, and the admittance card is produced for you. Please allow up to 21 days for delivery.
Make sure you take this with you when you go to a participating fixture to gain your free entry.
Frequently asked questions

Q. Where can I find a list of ARC's racecourses and fixtures?
A. A list of participating fixtures can be found in the Members Area of the ROA website. Alternatively, a full list of ARC racecourses can be found on ARC's website. The home page has links to each racecourse's website where all their fixtures can be located.
Q. When does the limit of two visits expire?
A. The scheme will be for a calendar year, starting from 1st January each year. You can use your ROA/ARC card to visit any ARC racecourse throughout the year. As long as you are still an ROA member and eligible your card will automatically be recharged at the end of the year to allow for use the following year so please retain it and do not through it away.
Q. What if I want to visit an ARC racecourse more than twice using my ROA/ARC card?
A. If you visit a racecourse twice during the calendar year you will be able to 'top-up' your card for additional visits (at your own expense). This can be done by contacting the relevant racecourse by phone or email at least 48 hours before the race fixture you would like to attend. They will process your required transaction and charge up your card for entry on your chosen day.
Q Can I bring other guests in with my ROA/ARC card?
A. Unfortunately this benefit is just for the ROA member whose name is on the card.
Q. I've lost my card, how do I get a replacement?
A.Please email ROA@arenaracingcompany.co.uk and your request will be dealt with.
Q. I can't remember if I've visited a racecourse twice. How can I tell?
A.Please email ROA@arenaracingcompany.co.uk and you will be updated by the ARC team.
Q. What should I do with my ROA/ARC card at the end of the year?
A. Please keep it and assuming you are eligible for the scheme your card will be automatically topped up for ghe next year allowing you to enjoy another 32 complimentary visits to ARC racecourses.
Q. I am already on the Racecourse Badge Scheme for Owners, can I still apply for the ARC scheme?
A. No. The ROA / ARC admission scheme is a benefit for members who do not qualify for the full badge scheme
Terms and Conditions
1. The ROA/ARC admission scheme is for Premier Enclosure admission only (access to the Owners & Trainers facilities are strictly for owners with runners on the day will not be provided by your ROA/ARC card).
2. The ROA/ARC card is not transferrable and only for use by the member named on the card.
3. If ROA membership is terminated the ROA/ARC card will be deactivated without notice.
4. The ROA/ARC card remains the property of ARC and it may be withdrawn without notice or explanation at any time.
5. The ROA/ARC card must be produced to gain entrance at any ARC racecourse. Failure to produce a ROA/ARC card may result in refusal of free entry.
6. The ROA/ARC admission scheme does not include access to non-raceday events held at any ARC racecourse.
7. ARC racecourses have the right to exclude racedays at any given time. To confirm admission availability it is advised that ROA/ARC badge scheme users contact racecourse prior to attending or check the Members Area of the ROA website.
8. Where possible changes to the ROA/ARC admission scheme will be communicated to ROA members by monthly eBulletins and via the Members Area of the ROA website.
9. Please check the dress code policy of each racecourse prior to attending.
10. Exclusions apply to all ARC racecourses. Please check the Members Area of the ROA website.
11. No refunds are provided for tickets bought prior to access through the scheme.