General discount codes
As well as the 20% discount on BHA registration fees, there are a number of other discounts and offers that are available to ROA members. Here you can find the discount code to use when making your purchase:

Weatherbys Wall Planner - Discount Code
Weatherbys
Members can get 10% of the standard price for the Weatherbys Wall Planner.
Simply contact Liam at Weatherbys on lharris@weatherbys.co.uk or 07917 906881, quoting 'ROA Wall planner' and you will receive a 10% discount.
If you don't have any branding you want included, Weatherbys will send you a generic wall planner with ROA and Weatherbys branding on.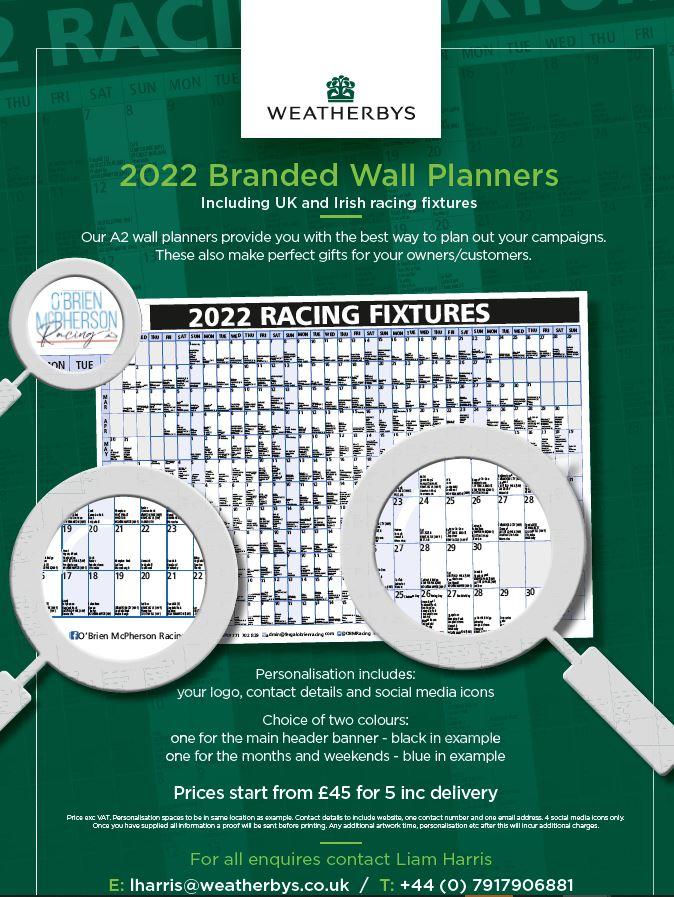 Bettrends discount code
Betrends, Weatherbys
Powered by Weatherbys, the Bettrends Shop provides all of the essential industry publications from race planning tools such as the Racing Calendar, Programme Book and Pattern books, to leading bloodstock titles including the Weatherbys Stallion Book and the Return Of Mares.
The shop also caters for racing enthusiasts by offering the latest Jump season guides
Add to this a range of betting services provided by the Bettrends team and industry expert Paul Ferguson, and there is something for everyone at the Bettrends Shop.
Members will also receive a 10% discount every time you log-in to the Bettrends Shop thereafter.
To claim your 10% discount off your first order, and to activate your Bettrends Shop account, please call 01933 304 776 (8.30am-5.30pm Mon-Fri).
Once activated, every time you log-in to the Bettrends Shop, a 10% discount will be applied to all products across the store.

Personalised gifts from Susan Rose China - discount code
Susan Rose China
With Cheltenham and Aintree fast approaching we have teamed up with Susan Rose China to give ROA members a 12% discount on across their horseracing range.

Susan Rose China provide personalised English Bone China gifts with your specific name and colours, with their range including cups and saucers, teapots, mugs, and trinket pots – what better way to remember that special win in your colours?

Members can order online and gain the 12% discount when using the code CODE12 on all orders placed on or before 2 April.

The full horseracing collection can be found here

20% discount on ROA VAT Solution
Racehorse Owners Association
The ROA has launched a new VAT Solution for Owners driven by a dedicated team with over 20 years experience of The Racehorse Owners VAT scheme.
Alongside the teams' experience and knowledge, the service will be powered through the market-leading XERO accounting software which is fully compliant with HMRC's Making Tax Digital requirements introduced in April 2019.
Members qualify for a 20% discount on this service. For more information, visit our ROA VAT Solution section.

Text Messaging alert trial - discount code
Weatherbys
Weatherbys messaging service allows owners to keep fully up to date with any race entries for their horse or related news by text or email. Owners can opt to receive a message when an entry is made, or their horse's rating changes. Content can be tailored according to the content of messages according to personal preferences, e.g. going changes, race time changes, advising of forfeit stages.
ROA members who have not previously had a subscription for Weatherbys text messaging service will be able to take advantage of this free offer of a bundle of 25 free texts. Users who take up this offer will also be offered a follow up of a 10% discount on any subscriptions taken out after the free trial period ends. This offer will extend to new members who join the ROA.

To sign up for this offer, please contact Keith Mason at Weatherbys at messaging@weatherbys.co.uk or call 01933 440077.

Racing Post - digital edition monthly plan discount code
Racing Post
The daily digital version of the Racing Post is the must-have newspaper with the must-have racing information. The digital edition is identical to the print version, and available from 3am (UK) every morning. Normally the monthly plan retails at £70 per month, but ROA members can purchase the subscription for just £49 per month using the details below:
Click "Buy Now"
Enter your personal information and proceed to subscription plans
Scroll to the bottom of the page and where it says "Enter Promo Code" type ROAMEM
You will be presented with a £49 per month option (normally £70)
Select this and continue with purchase

Ultimate Member - discount code
Racing Post
Racing Post Members' Club
Save 25% on an Ultimate annual subscription
The ultimate community for racing fans and punters, providing award-winning journalism, expert insight, comment and opinion, and renowned form study tools designed to give you an edge.
Members' Club Ultimate includes access to the Racing Post digital newspaper every evening from 9pm, full race replays of all UK & Irish racing, daily tips from the experts and much more.
Get a permanent 25% discount off an annual Ultimate subscription with your ROA discount code: ROA2022
Racing TV subscription discount code
Racing TV
For only £15/€18 per month you can enjoy every race live from 34 of the UK's premier racecourses, including Aintree, Cheltenham, Goodwood, Newmarket and York. That's more than a 34% saving for 12 months, plus with Racing TV Anywhere you can enjoy the best racing coverage on your TV, tablet and mobile for no extra cost!
Terms and conditions
This offer is only available to new and reinstating residential customers in the United Kingdom and the Republic of Ireland. 12-month minimum term applies. Offer is not applicable to cable customers. Offer price is £15 per month (€18 per month in the Republic of Ireland) for 12 months. After the 12-month promotional term the subscription will revert to the full price of £22.98/€28.60 per month. Offer is only applicable via call centre agent, not available via automated subscription service or online. No other method of subscription will qualify for the offer. Offer cannot be used in conjunction with any other offer and there is no monetary alternative. Reinstating customers must have been cancelled for at least 28 days prior to reactivating on this promotion. Any outstanding debt must be paid in full before offer is applicable. Racing TV reserves the right to withdraw this promotion at any time. Terms and conditions correct as of 30 October 2015.
Call 0844 855 1881
ROA discount code: Quote "ROA Member"

10% of Racing Silk Gifts and merchandise - Discount Code
Weatherbys
Bettrends are offering ROA Members 10% discount on their racing colours merchandise. You can choose from their best-selling ceramic or bone china mugs, an umbrella or Tote shopper and add your silks or perhaps that perfect gift for a new arrival or baby of racing mad parents.
You can truly personalise some products with a 3-generation pedigree of your horse and, with our baby products, the 'family pedigree' of the baby!
Shop that range at https://weatherbysshop.co.uk/personalised-gifts/
Your discount code is: ROA21C

Rewards 4 Racing
Rewards 4 Racing
The ROA has teamed up with Rewards4Racing and The Jockey Club to offer all members 500 Rewards 4 Racing points for FREE!
After claiming the initial free points, members will also be entitled to claim 1 point per pound spent when renewing ROA membership.
Rewards 4 Racing allows its members to accrue points from everyday purchases at 3,300 retailers, which they can redeem to enjoy rewards at all 15 of The Jockey Club's racecourses nationwide. Rewards include ticket discounts, upgrades, free racecards, food and beverage discounts. To find out more please click here.
All members have to do to claim the 500 FREE Rewards 4 Racing points is:
Login to your Rewards4Racing account.
Go to Edit Details in My Account section and tick the box 'Do you have a Racehorse Owners Association membership?' If you are not already a Rewards4Racing member, simply join for FREE today and tick the box 'Do you have a Racehorse Owners Association membership?' when completing your registration.
To claim points after renewing membership please email admin@rewards4racing.com quoting your membership number and stating the number of points you wish to claim.
Please allow 10 days for your Rewards 4 Racing points to be added to your account.

Racetech discount code
Racetech
RaceTech is offering ROA members a special buy one get one free offer on their DVDs.

RaceTech manages and maintains the national archive for horse racing in England and Scotland. They can provide copies of any race run on any racecourse over the last two years and in addition, they have all Festival and Classic races going back many years. They also hold the archive of photo finish prints – capturing that exact moment when your horse crosses the line – win or lose, it is always a special moment for an owner, andRaceTech can print the shot used by the judge on the day.

RaceTech can also put together compendium DVDs of all the races run by your horse, or a selection of races. They can run multiple copies of the same DVD for syndicates and add in any logos or branding required. Racetech have provided copies of races for owners, breeders, broadcasters and the regulatory authorities.
To claim your ROA discount: Call the Racetech office on 0208 947 3333, select the 'Media' option from the list, and tell the operator that you are an ROA member claiming your BOGOF offer.

Racing canvases discount code
Horse Racing Art
Horse Racing Art, headed up by renowed racing photographer Mark Cranham, is offering ROA Members 20% off their limited edition canvasses.
Featuring legends of the sport such as Frankel, Arkle and Red Rum, these special canvasses would make a lovely present for any turf enthusiasts.
Your ROA discount code is: roa20 to receive 20% off your limited edition canvass.

Palace House discount code
Palace House - National Heritage Centre
National Heritage Centre of Horseracing and Sporting Art at Palace House in Newmarket continue to offer ROA members discounted annual admission.
The Centre, situated on the five acre Palace House site in the heart of Newmarket, Suffolk, is a world class attraction. It comprises three complementary areas; the National Horseracing Museum in the Trainer's House and King's Yard Galleries, the Fred Packard Galleries of British Sporting Art in Palace House, and a chance to meet retired racehorses in the stunning Rothschild Yard, the flagship yard for Retraining of Racehorses charity.
Visits typically take from 3 hours to a full day, with displays that will capture anyone's imagination. Included in the price are multi-media guides, family trails and interactive exhibits suitable for all ages. It is an accessible site with step-free access to all areas. There's something for everyone, with The Tack Room restaurant, onsite bakery and gift shop and adjacent car parking. Further details can be found at www.palacehousenewmarket.co.uk
Each day at 11.30am and 2.30pm there is a 30 minute 'behind the scenes' demonstration that showcase how racehorses are retrained, taking place in the Peter O'Sullevan Arena for the Welfare of the Horse, a superb 70 x 35m outdoor arena, or in the Rothschild Yard.
Your ROA discount code is: ROA2018

Racesafe - racing silks service
Racesafe Limited, well known for body protectors and riding apparel, have launched a new racing silks service, available directly to owners and trainers.
They are offering ROA members a 25% introductory discount off their first order. To take up this offer, orders can be placed online https://racesafe.co.uk/collections/racing-silks or by calling 01536 771051.
A set of plain silks are £142 (£166 including cap) inc VAT, offering members a saving of £35.50 or £41.50 respectively.
Use code ROA25