How much does it cost to be an owner?
The sport of kings... but is racehorse ownership accessible to everyone? Our last Ownership Costs survey (in 2015) revealed the annual costs of keeping a horse in training was £22,595 for a horse running on the flat and for a jumps horse the average was £16,325. The ROA VAT Solution can help owners reclaim VAT on these costs.
Sharing a horse with friends in a syndicate or partnership obviously reduce the costs considerably.
But how are these costs made up? Are there any hidden costs that owners - potential and current - should look out for?
We have this and more covered in our new free guide Racehorse Ownership - the costs.
Download your FREE copy here: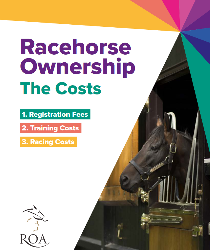 Please note all figures quoted relate to 2018.