News from the Tote - October 2020
Introduction
Welcome to the October update from the Tote about our latest developments. This month marks our first anniversary of becoming the UK Tote Group and the new custodians of the Tote. We will be focusing on what we have achieved over the last year and look forward to the next Tote Superpool event at Qipco British Champions Day this Saturday.
As ever we are very grateful to the team at the ROA for sharing these updates on our behalf.
If at any point you have any further questions, or areas you would like to discuss with us in more detail, please email our Director of Communications and Corporate Affairs, Susannah Gill, on susannah.gill@uktotegroup.com.
Another Tote Superpool at Qipco British Champions Day
Following the success of the Tote Superpool at Royal Ascot, we are delighted that for the first-time there will be a Tote Superpool for the 10th edition of Qipco British Champions Day this Saturday at Ascot.
All six races on the day will form part of the global betting pool leading to greater liquidity as racing fans from around the world bet into a single pool on British racing's richest race meeting. This has come about through international collaboration with the Hong Kong Jockey Club's Chief Executive Winfried Engelbrecht-Bresges saying "We are delighted to be partnering with British Champions Series, Racecourse Media Group and UK Tote Group in extending the World Pool for another major international racing event." The full press release can be read here.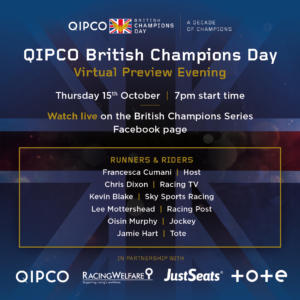 We are working with partners to promote the day which includes supporting the Official Qipco British Champions Day Prevent Event on Thursday 15th October at 7pm. This preview evening will raise money for charity with proceeds going towards Racing Welfare. All viewers will be encouraged to make a voluntary donation of £5 to the Racing Welfare Covid-19 emergency appeal.
The evening will be presented by ITV's Francesca Cumani, along with Oisin Murphy (2019 Champion Jockey), Chris Dixon (Racing TV), Kevin Blake (Sky Sports Racing), Lee Mottershead (Racing Post) and the Tote's Racing Director Jamie Hart providing some informed tips. It will be hosted on British Champions Series Facebook page which can be found here.
The Tote's Back: A Review of the First Year of UK Tote Group Ownership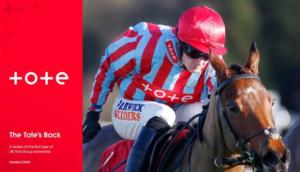 The last year has not been at all what any of us would have expected but at the Tote we're pleased to have made some very good progress against our ambitions of ensuring the Tote is the go-to place to bet on horseracing, wherever it takes place in the world.
From product innovation, with a new brand; new website with exclusive content and "bet and watch" facility for all customers; the return of Tote Ten to Follow; a new Placepot App and Tote Guarantee, through to international collaboration with partners in European and Asian counties, it's been a busy year.
We have a produced a review of our first year which you can read here.
Lots to look forward to
We are now actively marketing our new Placepot App which is live on Android and iOS (iPhone) - search "Placepot App" to find it. We will continue to release new features in the weeks and months ahead and monitor customer feedback.
Tote Ten to Follow for the flat season will be concluding at Qipco British Champions Day with the jumps season's game kicking off in early November so what this space for all the details.
And finally….
While it was a great shame the weather drowned the Tote.co.uk Challenge Cup at Ascot on Saturday 3rd October, we were delighted to be sponsor Goodwood Racecourse's last two fixtures of their 2020 season which concluded on Sunday. We hope you agree the branding looked fantastic!