CHeltenham Tuesday - Owner of the Day
LES FELL - SILVER STREAK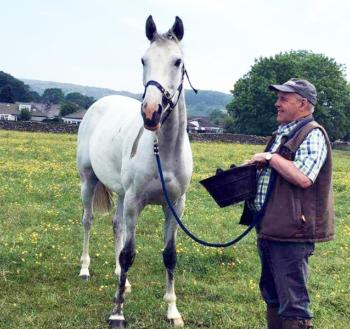 To highlight the support owners have shown to racing the ROA is focusing on raising the owners profile throughout Cheltenham and beyond, especially as owners won't be able to be at the Festival this year. The ROA Owner of the Day is an opportunity for the ownership story to be shared.
Our first ROA Owner of the Day is Les Fell, a 78-year-old beef farmer from Giggleswick, North Yorkshire, and proud owner of Silver Streak. Fell's eight year old lines up for a third appearance in today's Champion Hurdle having finished third to Espoir D'Allen in 2019 and sixth to Epatante last year.
Les, and his wife Jean, nicknamed 'The Boss' have been involved in ownership for 12 years. His family have farmed in the Dales for more than 60 years. Les remains involved in the farm which is managed by grandson Thomas.
Silver Streak is trained over 250 miles away by Evan Williams in the heart of the Vale of Glamorgan and the fact the owner and trainers paths crossed seems one of fate.
Fell attended Doncaster Sales in 2009 with five horses on his shortlist. The one he liked most sold last and he was outbid and came away empty handed. He called the sales house the day after and asked who bought his second choice. It was Evan Williams, and Fell called the trainer to see if he had anyone for the horse. They hadn't. The horse was Buck Mulligan and the partnership started from there.
Buck Mulligan won first time out at Ludlow and went on to win six races before retiring in 2016. Fell returned to Doncaster Bloodstock Sales with Evan Williams' wife, Cath, and bought Silver Streak as a three-year-old.
Silver Streak is a striking grey who races enthusiastically, bowling out in front with ears pricked.
Trainer Evan Williams said: "He's very tough, very much his own man. He does his work and likes his routine. He's a trainers dream as he always wants to do his work. If he was a person he'd be a workaholic!" Lewis Gordon rides him every day and David Burchell does all the work when he goes racing.
Fell says: "Evan does everything and I go along with it. Cardiff is a long way from Settle. I'm perfectly happy with the situation. Prior to Covid my wife and daughters visited the yard."
"Prior to Kempton on Boxing Day we'd always gone racing. We've been as far down as Newton Abbot and as far north as Perth."
The son of Dark Angel has given the family and supporters plenty to enjoy, winning eight times from 25 hurdle races, finishing second seven times and third in a further three races. A memorable victory came in the Swinton Hurdle at Haydock Park, with all the family in attendance. His last race was at Kempton Park on Boxing Day when he won the Christmas Hurdle, his third win at the Sunbury course.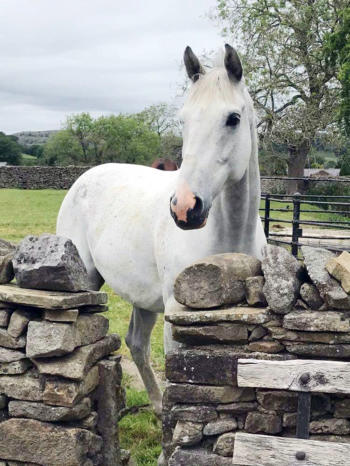 Until last year the Fells hadn't missed seeing their horse run. Kempton Park is a five hour drive away, and with only two owners allowed for 45 mins, they missed the Christmas Hurdle – although afterwards wished they'd made the trip!
Silver Streak is sponsored by the Tote through the ROA's owner sponsorship scheme, as are many horses in the yard.
His usual rider Adam Wedge is sidelined due to injury but reports the horse comes into this year's race, in good form. Tom O'Brien takes the ride today, and has won on him twice previously.
Fell would usually visit Cheltenham for the Festival. This year the family bubble will gather together to cheer him on. The excitement and nerves are certainly building. The main focus will be getting round safely.
The owner reflected: "We're very lucky to have him. From where he set off to where he is now you could never have dreamt it. Our dream has definitely come true."
Fell's background was in harness racing horses. He and his wife bred trotting horses and also enjoyed great success. His Scoot Around became the first British-bred horse to break the £50,000 prize-money mark and was a three times British Harness Racing Club Horse of the Year and twice Crock of Gold winner.
He is fully cognisant of Silver Streak's achievements, and appreciates him returning home to the farm for his summer break, where he can enjoy grazing in a field by the River Ribble.