Ripon stages latest Industry Ownership Day
The latest in our monthly Industry Ownership Days took place at picturesque Ripon racecourse last night.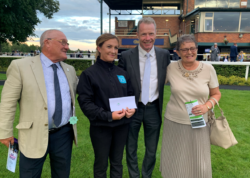 Members enjoyed a lively question and answer session and an update on the work of the ROA before racing. Issued raised included the Appearance Money Scheme, prize-money, the ROA's stance on the whip and the new breeders' bonus scheme.
Joining guests were Nick Rust, Chief Executive of the British Horseracing Authority, and members of the Levy Board team. All were on hand to hear members concerns and answer questions.
After the serious pre-racing business was finished, guests were given the opportunity to join our raceday host Mick Fitzgerald in the paddock and choose the best turned out horse in all of the six races on the card. Members certainly could pick a winner, with two of the best turned out horses - Caustic Love and Count D'Orsay - winning their respective races. Members were also on hand to present the trophies to winning connections.
Mick also interviewed both Nick and ROA Chief Executive, Charlie Liverton on the night. Both interviews can be viewed below.
Syndicate and Clubs dominated the winners on the night, with the first race taken by NE1 Racing Club's Lukoutoldmakezebak whilst Ontoawinner's Vintage Times was a comfortable and well-backed winner of the two-year-old race.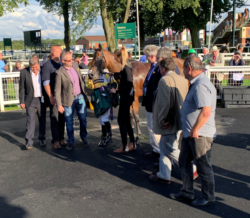 Ontoawinner very nearly followed up in the Owners Jackpot race, with one of their trio in the race, War of Clans, finishing first past the post. After a lengthy Stewards Inquiry the places were reversed, leaving Singe Angalis – the only horse in the field not qualified for the Owners Jackpot – as the winner. As all the other horses were qualified, they will collect £250 towards their travel expenses to the meeting.
Members who could not attend the regional day were also given the opportunity to gain complimentary entry at the meeting, where they would have enjoyed The Jailhouse Blues Brothers during racing, and had the chance to enter the Best Dressed Gentleman competition.
For details and information on upcoming Industry Ownership Days and Regional meetings, please see our Events page.