Cheltenham Festival - Owner of the Day
ROA Owner of the Day: Emma Palmer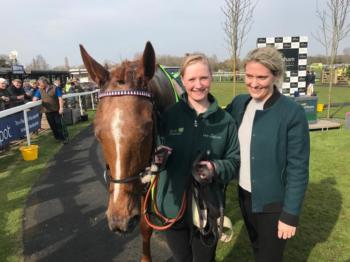 To highlight the support owners have shown to racing the ROA is focusing on raising the owners profile throughout Cheltenham and beyond, especially as owners won't be able to be at the Festival this year. The ROA Owner of the Day is an opportunity for the ownership story to be shared.
Today's (Wednesday 17th March) ROA Owner of the Day is Emma Palmer, of Andover, Hampshire. She is the owner of Le Breuil, who goes in search of a second victory at The Festival in the Glenfarclas Cross Country Chase (3.40pm).
Emma's first introduction to racing was through an aunt who bred Flat horses in Yorkshire, notably Winker Watson, winner of the Norfolk Stakes and July Stakes as a juvenile.
Her interest flourished in her late teens, sparked by a visit to the Cheltenham Festival. She was involved with horses and competed internationally at dressage when based in Gloucestershire, where she met Ben Pauling during a gap year.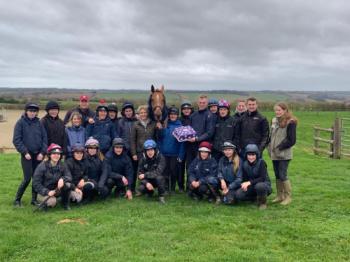 When a career in property and finance beckoned, a share in a Highclere Thoroughbred Racing syndicate appealed as a way to keep involved with horses.
The syndicate enjoyed a memorable experience with Census as their flagbearer. Trained by Richard Hannon senior, he won three races and took the syndicate to Royal Ascot, where he finished second in the King George V Stakes. He finished second in the Geoffrey Freer Stakes at Newbury and Bahrain Trophy at Newmarket before finishing fifth to Masked Marvel in the St Leger in 2011.
Palmer's next venture was through shares in horses trained by Charlie Longsdon. When Ben Pauling set up as a trainer at Bourton on the Water, she shifted allegiance to support him in his new venture. Initially involvement was through shares in syndicates. Then one day she mentioned casually that she might look to have a horse of her own.
Pauling had a horse in mind which had been found in France by the Costello's in Ireland and an introduction via Henrietta Knight. The yard in France was reportedly so small there wasn't space to trot him up and they had to take him out onto a main road and wait for the lights to turn red to do so.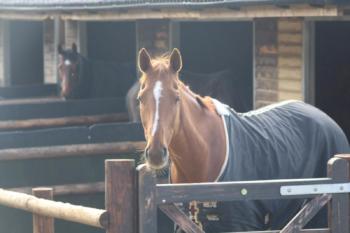 Just after Palmer went to have a look at the chestnut gelding for the first time at Pauling's, he had slipped over and cut the inner side of his thigh so Pauling suggested she waited until it healed. Once healed, after sitting on the fence for a while, Pauling suggested that if she didn't want him, a certain high profile owner might. It was enough to encourage commitment and Palmer duly became owner of Le Breuil.
Loyalty to her friend was rewarded, and there have been plenty of big day's racing over the past six seasons, including a memorable win in the 2019 National Hunt Challenge Cup. Today will mark a fourth trip to the Festival for the nine-year-old Le Breuil.
Palmer reflected: "His last race came a bit too soon after Warwick. We were hoping to make the cut for the National, although Cheltenham was always on the agenda. The cross country race has been targeted as a definite possibility and I think he'll relish the fences."
A love of horsepower is shared with her husband, Jonathan Palmer, is shareholder and Chief Executive of MotorSport Vision (MSV), a company that runs six UK motorsport circuits including Brands Hatch and Donnington Park. As a former Formula 1 driver, he drove for Tyrrell's and other teams in the early 80s and did test driving for McLaren.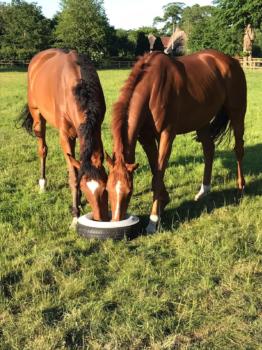 The Palmers were able to go racing prior to the current lockdown, to Kelso and Aintree, and described the experience as very different, separated from her horse and trainer. Palmer would typically be with her horse while being saddled, but had to be content with seeing him over the parade ring rail.
Le Breuil is looked after and ridden by Hannah Worgan, who started work at Ben Pauling's on the same day the horse arrived in the yard, and Evan David, brother of Pauling's assistant Tom David.
Ben Pauling's website notes: A horse gallops with his lungs, perseveres with his heart, and wins with his character.' Le Breuil enjoys a mix of indoor and outdoor living, with a field shelter on astro turf.
Palmer confirmed communication with the yard is enjoyed via various means. "By email - his team send photos and videos of Le Breuil in work and WhatsApp/text messages and phone calls, where he always has to start with 'don't worry he is all ok' before I start panicking!"
Palmer enthused of Le Breuil: "He loves Cheltenham. It was great to see a clip of him being unloaded out of the box recently when visiting for a practice over the Cross Country fences. He clearly loves his work. We had him at home for the first time last summer. He got quite molly coddled while he was here, and when the lorry arrived, he tugged away to be loaded – he was happy to be getting back to work."
Clearly his owner loves Cheltenham too. She admitted that today she'll "probably be standing behind the sofa, shouting - with the dog barking!"