Foxtrot Racing: Hogan's Height
ROA Owner of the Day
Foxtrot Racing: Hogan's Height
To highlight the support owners have shown to racing the ROA is focusing on raising the owners profile. The ROA Owner of the Day is an opportunity for the ownership story to be shared.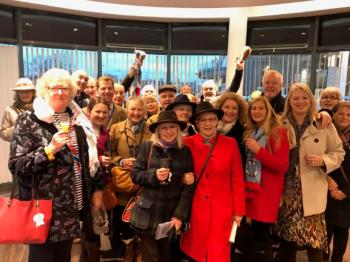 Today's ROA Owner of the Day is Foxtrot Racing: Hogan's Height. Hogan's Height participation is enabling 20 members of the Foxtrot Racing syndicate the chance to enjoy an experience of a lifetime, having a runner in the Aintree Randox Grand National at 5.15pm today (Saturday.)
Foxtrot Racing is run by Dan Abraham, who lives in Loughborough. He took up managing the syndicate in 2009 after being a member of the syndicate himself.
Abraham's very first steps towards the owners experience were guided by Club ROA, a racing club the ROA had set up for people age group 18-35 in 2007. He experienced a win with one of the club's first horses, the popular and mercurial Cornus, trained by Alan McCabe. Dan recalled: "I remember the day at Lingfield distinctly. I was in the parade ring, and when Cornus was led in he insisted on walking halfway around the parade ring backwards! It was a small field as the race hadn't attracted many runners and the race had been re-opened."
"I went on a trip to The Breeders' Cup with some of my fellow Club members. During the trip I became friendly with Tom Gittins, who helped manage the club at the time and also ran Foxtrot Racing. During the flight home, Tom suggested that I got involved in Foxtrot. I did, and joined the syndicate with a share in a horse trained in Chiddingfold, near to where I lived then. I thoroughly enjoyed it. At the same time, I was noting a few areas that I thought could improve the owner's experience."
"Tom had to give up running Foxtrot Racing at short notice to become involved in his family's business. He rang me up and asked if I'd like to take it over and run it. So, I went from member to manager in the space of a day!"
"Foxtrot Charlie won at 14/1 at Kempton. He was the first horse I managed for the syndicate. We were then focusing on Flat horses in the summer and jumps in the winter. I decided I wanted to concentrate on the jumpers. I thought summer jumping was developing into a more appealing activity, and gradually decreased the number of Flat horses and increased the number of jumpers in the syndicate. I had a different model in my head, I really wanted to find value horses. It's not a criticism, but Foxtrot were buying pretty expensive horses. I felt there was an opportunity to buy horses that had underperformed."
Horses with the right breeding and confirmation invite attention at the sales. Abraham felt that simply by putting in more work he could gain a competitive edge. He looked for horses that had run in point-to-points or novice hurdles, and so buying flat horses became difficult. He wanted to buy horses that were good value, horses that had run, where he had noticed something about them that someone else hadn't.
"Having been a syndicate member myself gave me an advantage. Whenever I look at buying or leasing a horse, I ask myself, if I were a syndicate member, would I want to get involved in this horse?"
"I bought Hogan's Height in 2016, on November 11 from Cheltenham Tattersalls Sale. My father had suffered a stroke that year and I decided that I would take him somewhere when he recovered. I took him to watch England v Scotland in the World Cup qualifier at Wembley. The date of the match coincided with the sale. Hogan's Height went through the sales ring at half time during the match. Had he gone through the ring ten minutes earlier, during the first half, I wouldn't have bid on him. I'm a great believer in things that are meant to be."
An early interest in racing had been sparked as Abraham's mother is godmother to Andrea O'Keefe, wife of trainer Jedd O'Keefe. His father was an avid follower of sport and took him to a variety of sporting events. As a teenager, football and horseracing were the pursuits he was most interested in. A half decent footballer he'd trialled for a Premiership team before his career led into football coaching at Portsmouth Football Club.
Abraham had a particular interest in how athletes develop, and started to apply that to how trainers prepared a horse to perform on a certain day. He understood training techniques and learnt from racing about his own football coaching. He explained: "It reignited something inside me, a real passion for racing. The more time I spent around horses, the more interested I became in their training. How they peak, their mental and physical performance. How you get the most out of their potential. How you buy a horse for 'X' amount and make sure you get the most out of it." His passion and enthusiasm is catching, and it's easy to see how it cascades through his syndicates.
He explains the story of Hogan's Height and his owners: "There are 20 members in the syndicate. They've all been involved from the start. They've followed Hogan's journey from his first National Hunt Flat race, ridden by Richard Johnson at Wetherby, through to hurdle races and then onto chasing. That experience has been wonderful. Any horse that runs in a Grand National has to be successful. This horse has had a wonderful journey through his racing career."
One of the 20 syndicate members is Phil Chappell of Henley-on-Thames. He was introduced to racing by his dad and explained: "As a student I worked in Coral Racing at Bournemouth and became a branch manager in Weymouth, Dorset for a few years. I've loved my racing since those days. I promised myself that if I had some spare cash, I'd get involved in ownership if I could."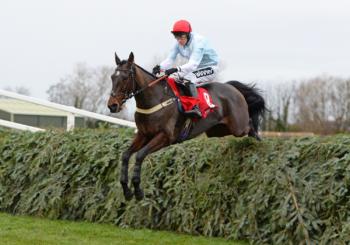 Having retired, that's exactly what he did. He joined Foxtrot after seeing an advert on Facebook and bought a share in Hogan's Height. "He's won six races for us already. Dan sells 20 shares in each horse. It's a nice number, you get to feel part of it and get to become friends with the other owners. Dan runs it so well, we receive so much information and he does a brilliant job on the social side. In usual times we'd have stable visits, an annual party and golf day. Seeing Hogan's Height working on the Lambourn gallops, and all the other horses in the yard, is brilliant."
He is one of the lucky members who are able to go to Aintree. With six owners badges available, places were drawn out of a hat.
Chappell explained how members are updated with racing behind closed doors. "Dan asks trainers to do a Zoom call before the race and then updates us post-race. With Foxtrot, there are 20 horses across the syndicates, and we all support each other's horses and our syndicate has a Whatsapp group." Fair to say their phones have been busy with messages.
"Friends and family are getting interested and will have their 50p each way! Dreams can be realised. He's an outsider, but he's won over the fences. When he won the Grand Sefton, he was 33/1 in the morning. We never thought he'd win by 16 lengths. The excitement afterwards, sharing that experience with everyone, and our trainer Jamie Snowden was incredible."
Fellow syndicate member Nigel Smith, who's recently moved to Norfolk, enthused: "It's the realisation of a childhood dream to be involved with a runner in the National. When I was a young teenager, I can remember trying to persuade adults going into the local Ladbrokes to put 50p each way on my Grand National fancy. It was always THE race of the year and now - well let's just say Saturday is going to be very special."
"As to watching the race - it would have been marvellous, if times were normal, to be there. Sadly that will not be happening so I will be watching the TV from behind the sofa!"
Smith recalled his first contact with Foxtrot Racing some years ago: "When I rang Dan there was one share left in Hogan's Height. It seemed like fate, in a way. Since then I've been involved in numerous horses. We also have a breeding syndicate with a Foxtrot mare, Midnight Silver, who won six races for us. She's had a colt foal and two fillies. We intend to race the fillies. Having a horse we've bred will be fabulous. It's such a well-run syndicate, Dan keeps us well informed."
"Hogan's been an absolute star, a joy to be involved with. I felt last year he was cherry ripe for the National when it couldn't be held. I think he's one of those horses that when he gets to Aintree he seems to improve. Win, lose or draw, we hope every horse gets round safely, including Hogan's. If he were to finish in the first six, everybody would be delighted. He'd gone to the sales before the Grand Sefton as we felt his handicap mark was too high. He didn't attract a bid. He came home and in a matter of a few weeks he won the Grand Sefton by sixteen lengths. It was beyond our wildest dreams."
Smith has been involved in racing syndicates for 20 years and is currently involved in nine syndicates, jump horses with Foxtrot and Flat horses with James Fanshawe and Roger Varian.
Smith echoed Chappell's feelings on yard visits being a highlight in normal times. "We stay overnight, get up in the morning, go to the stables, see the horses working, have brunch. Jamie's great fun, he looks after us on a stable visit. Foxtrot are very good, the trainers are willing to be videoed. Through lockdown Dan organised lots of Zoom meetings, allowing us to see different facets of the horseracing industry. He works very hard and is very innovative. He always communicates with a weekly newsletter. The communication is your involvement."
"I've always loved sport. My attention was captured by horses like Red Rum and Corbiere. Seeing them racing year in, year out. You get an affiliation with them, you feel you know them. Luckily enough, when I started work, my boss was a horseracing nut. The more he explained to me about the intricacies of racing, the more I became absorbed. I was fortunate to be in a position to get involved in syndicates. As you get closer to the horses and the people that look after them, it can be quite immersive."
"Our horses are regularly competing on a Saturday afternoon in feature races. It's a fabulous achievement and gives the owners a chance to go to Ascot or Sandown on a Saturday, prime racecourses, and have a horse running.
"Much of it is about the people you meet, the day's out you have. We choose to be involved with horses, they are such noble creatures and they are cared for in first class facilities. Syndicates have opened up racing. Racing has become more egalitarian and it's broadened the appeal of the sport. You can be involved on a budget."
Thoughts turn to Saturday and the big race. While he isn't able to attend on the day the impact of it all is immense: "It's like a fairy tale. Our story with Hogan's seems to have captured the public's imagination. I just wish it was normal times. I wish everybody could be there to share in the experience as it's a once in a lifetime opportunity. There will be six at Aintree, and a lot of noise being made in the living rooms for the rest of us! I'll be glued to the TV with my partner and we'll crack open some champagne."
Abraham summed up the focus of the 20-strong syndicate's attention, Hogan's Height: "Ever since we got him, it's very clear he loves jumping. Everything for him is about seeing a fence. Even when he was hurdling, he was jumping them far too big. It's very exciting going into the Grand National with a horse that you feel will be having the best day of his life. He just loves jumping, he loves being a racehorse. It's great to see."