ROA Owner of the Day: Mr and Mrs J D Cotton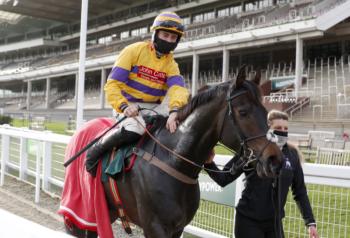 To highlight the support owners have shown to racing the ROA is focusing on raising the owners profile. The ROA Owner of the Day is an opportunity for the ownership story to be shared.
Today's ROA Owner of the Day is John and Barbara Cotton. Their 12 year-old Sametegal finished ninth in the Foxhunters yesterday and Magic Saint runs in the 4.05 pm Randox Topham Handicap Chase today (Friday.)
John and Barbara started owning horses just over 20 years ago. John explained: "We'd always wanted to be owners but due to pressure of work it just wasn't possible. Our first horse was Loop The Loup, trained by Mary Reveley. He was bought for us at the sales by Anthony Bromley. He won six races for us, most notably the Thorne Handicap at Doncaster in October 2000."
Thereafter they had horses trained by Ian Williams, Tim Easterby, Nicky Henderson, Paul Nicholls and Dan Skelton, among other. Their Flat horses are with Richard Fahey and Tim Easterby.
John recalled: "We were persuaded to have horses in France by Anthony Bromley. Through him we bought horses through Guillaume Macaire, a wonderful trainer, and we've been very successful."
"We won the Prix La Haye Jousselin at Auteuil with Golden Flight in 2005, a Grade 1 race. He was ridden by Jacques Ricau, five-time champion jump jockey in France. We also won a lot of other races with Golden Flight and other horses with Guillaume Macaire."
Trips to France reaped success and attentions turned to the Flat for trips to Paris. John explained: "Charlie Gordon-Watson persuaded me to buy a horse in France for the Flat. The horse was Silver Frost and he was trained by Yves de Nicolay in Deauville. In 2009, Silver Frost won the Poule d'Essai des Poulains, the French equivalent of our 2,000 Guineas, at Longchamp, ridden by French champion jockey Christophe Soumillon."
The Cottons will be enjoying the racing from Aintree today at their home in Harrogate. "We'll watch it on television. We are very sad we won't be at Aintree due to Covid restrictions. Sametegal, trained by Paul Nicholls, runs in the Foxhunters' at 4.05pm (on Thursday) and should have a good chance. He was bought from France originally and is now with Paul Nicholls. Tomorrow, at the same time, we have Magic Saint running in the Topham Handicap Chase (Friday 4.05pm), also trained by Paul Nicholls."
"For years we've had winners at most of the top tracks in the UK, including Cheltenham, but not at the Festival as yet. The last winner we had at Cheltenham last year was the Mucking Brilliant Paddy Power Handicap Chase with Magic Saint."
"This year, we retired one of our favourite horses, Gold Present. He was trained by Nicky Henderson and won some good races for us including the Lavazza Silver Cup at Ascot in 2017."
"Soul Emotion, also with Nicky Henderson, won two hurdle races at Sandown in 2018 including the Bet365 Handicap Hurdle. On the Flat we've had some good horses like Wing Collar, who won three races at York, and Observatory Star, both trained by Tim Easterby."
John reminisced: "I had an aunt called Mary who left me £15,000 in her will, and I bought a horse called Aunt Mary with the money. She won a race at York, our favourite Flat racecourse. Interestingly, she tended to run better when there was thunder and lightning around!"
He added: "One of my favourite horses who came from Guillaume Macaire in France was Korakor.
He did well in the UK but at Sandown a horse knocked into him, and he wasn't able to race again. He's still around and happy in his retirement."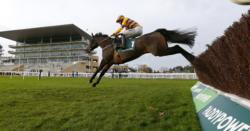 John explained how he and Barbara became involved in ownership. "We always enjoyed watching racing and enjoyed going to York. We wanted to get involved but due to business commitments I didn't have the time to enjoy racing at an earlier age."
The company, John Cotton Group is a leading manufacturer of pillows, duvets and mattress protectors. The main office is in Mirfield, betwist Huddersfield and Leeds. It also has companies established in Poland and Australia. The company generates sales of £250m annually and employs a workforce of 1,500 worldwide. In the UK familiar brands include Snuggledown of Norway and Slumberdown. They supply all the major retailers, including John Lewis and Marks & Spencer. John was awarded an MBE for Services to Yorkshire Business in 2014.
John joked: "You might well sleep on our products! When the horses run, the company sponsors them and the brand is carried on the livery of the horse. Our workforce follow the horses and always want to know if the horses have any chance. I have to be careful, as if they do back them and they lose their money, they aren't too happy!"
The Cottons have lived in Harrogate for the last 35 years. Barbara commented: "It's a lovely town, we can easily see our local trainers. It's not too far to visit the Easterbys and Richard Fahey."
John was brought up in West Riding in Huddersfield and Barbara moved to England having grown up in Munich, Germany. The couple used to live near Wetherby and shared a passion for racing. Trips to the races formed part of family life. Barbara recalled: "The children went in their prams to the races."
The Cotton's ownership has reaped notable success, with 72 winners over Jumps and 44 winners on the Flat in the UK alone. Such success doesn't come without sizeable commitment and they have a thorough understanding of the economics. John reflected: "As owners we don't get a very good deal bearing in mind the very poor prize-money. If you compare the prize-money in France it's very much better."
Raceday experiences have provided some memorable moments: "To be able to go to somewhere like Ascot, and enjoy all the excitement of the day, meeting with the trainer, your horse in the parade ring. You've got to experience it to realise what it's like. We have been lucky and enjoyed some very special days, in the UK and at Longchamp and Auteil as well. We've loved every minute of it."