2020
INSPIRING OWNERSHIP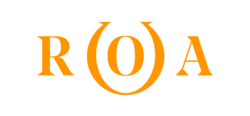 The ROA needs to communicate that racehorse ownership is accessible, rewarding and fulfilling – something that anyone who loves racing should aspire to.

As you've seen we've updated the identity of the ROA to achieve this. It will help us stand out and make an impact whenever we communicate – at racecourses, in the press and throughout the wider world.

We're better able to convey the excitement and enjoyment of being an owner, attracting new people to our community and helping us better represent the interests of existing owners as we collaborate with stakeholders throughout the industry.
Some questions we've been asked already and the corresponding answers are detailed below. If you have a question which isn't covered here please contact us using info@roa.co.uk
Q. Were members consulted about this change?
A. Absolutely. We carried out one-to-one interviews with members at the outset of the project, as well as canvassing the opinions of members at Industry Ownership Racedays. We also invited a broad base of members to participate in critiquing the various options under consideration, prior to finalising the new brand and messaging approach. In all, we estimate around fifty members were involved in the process, in addition to a broad range of industry stakeholders and staff.
Q. Isn't this a distraction from real issues like prize-money etc?
A. We've used the process to get our house in order so we can better represent the interests of all owners. The feedback we received from members at the outset of the rebranding project suggested that members want us to develop a far more confident, powerful and single-minded voice. Fundamentally, we were also told that we should work harder to represent the interests of all owners and not just the interests of owners who happen to be our members. This has meant our brand needs to work far harder to establish relevance – understanding and advocating for the real issues that preoccupy existing owners, but also addressing the positive aspects of ownership that can make racehorse ownership more rewarding and worthwhile.
Q. What else will change? Will my benefits change?
A. The principal change members should experience as a direct result of this work is an Association that is better placed to promote the benefits of ownership and to advocate for owners' interests. Aside from this, we have learned much about the benefits members most value through the process so you can expect to see future improvement in the member experience – we understand from our conversations with members that small details can make a huge difference.
Q. When was the logo last changed?
A. Over 20 years ago. But this is much more than a redesign of our logo. The rebrand project has involved developing a clear purpose for the ROA – encouraging more people to become owners – building on robust insight into the owner community and consultation with industry stakeholders on the role of the ROA in the sport.
Q. Why have you lost the horse from the logo?
A. The previous mark was poorly suited to the digital channels that are now vital to how we communicate. The combination of owner and horse was too intricate to work in small sizes and the prominence of a horse's head in our mark made us harder to distinguish from the BHA, GBR, the Racegoers Club and other bodies which feature racehorses in their logo. We wanted to introduce a mark that would evoke racehorse ownership, but clearly stand out from the rest of the industry, as well as being recognisable at distance and practical in small formats.
Q. What difference is it going to make to me?
A. Our intention is to improve our brand and our Association so that owners can feel a greater sense of pride in being members. The brand is designed to reflect the changes we are making as an organisation: making sure the sport is built on a strong base of owners, who feel their interests are represented and the significant financial and emotional investment they make in the sport is recognised and rewarded.
Q. How is my experience as an owner going to be improved by this introduction?
A. Through the consultation process, we've learned a huge amount about what owners want and where the experience of ownership is currently falling behind expectations. We understand that improving the brand itself will count for very little unless we act upon the knowledge we have gathered. All of the work so far has been built around a clear promise: to make ownership more rewarding by helping owners get closer to the heart of the action – emotionally, financially and in terms of the way they are treated by the industry. Now it's up to us to deliver on this promise.
Q. Why orange?
A. We want to find a way to create the maximum impact with the minimum resources. Of all of the approaches we tested with members and industry stakeholders, this was the approach that created the most standout – on course as well as on digital channels.
Q. Why did it need a branding agency to do it? I've got a friend who designs logos.
A. This is more than just a logo redesign. The rebrand project has involved developing a clear purpose for the ROA, building on robust insight into the owner community and consultation with industry stakeholders on the role of the ROA in the sport. We only want to do this once and we want to make sure we get this right, so we've engaged a small, independent agency with a proven track record of building iconic sporting brands for the likes of Ascot, Wimbledon and the MCC.
Q. If the ROA represents all owners why do I need to pay my membership fee?
A. Besides advocating for the interests of owners, we offer an excellent package of benefits exclusively for our members that builds on our insight into owners' needs and represents great value for our members.
Q. How is my experience as a member going to be improved by this introduction? (as well as owner)
A. This isn't the end of the story. It's the first step in a longer process of refining and improving our member offer. As you'd expect, we take any changes to the member experience very seriously and all proposed improvements will be subject to member consultation before being announced and rolled out.